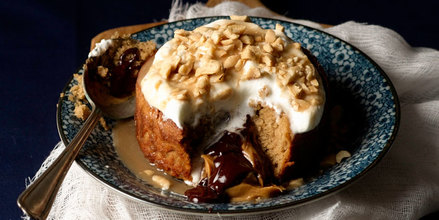 The Pepsi 'N' Peanut Cake
Pepsi and peanuts are a classic flavor combination that form the basis of this decadent molten cake. One bite will take you back to that old Southern tradition.
written by
Our State Staff
Makes 8 (4-inch) cakes (Made with gluten-free products)CAKE
8 (4-inch) ramekins (or 4 small springform pans)
1 cup brown sugar
½ cup vegetable oil
½ cup applesauce, made with N.C. mountain apples*
1¼ cups peanut butter
2 eggs
1 teaspoon vanilla extract
1¼ cups High Rock Farm Chestnut Flour
1¼ cups gluten-free all-purpose flour
1 teaspoon baking soda
2 teaspoons cream of tartar
1 pinch salt
1½ cups milk
REDUCTION
FILLING 1
8 ounces Escazú chocolate 64% cocoa, chopped
6 tablespoons Pepsi reduction
FILLING 2
¼ cup peanut butter
2 tablespoons powdered sugar
2 tablespoons Pepsi reduction
WHIPPED TOPPING
1 cup heavy whipping cream
2 tablespoons sugar
1 teaspoon Yah's Best vanilla extract
GARNISH
¼ cup chopped Baker's peanuts
Pepsi reduction
CAKE
Preheat oven to 400˚. Spray ramekins with nonstick baking spray.
In large bowl, mix brown sugar, oil, applesauce, and peanut butter until fluffy.
Beat in eggs one at a time; stir in vanilla.
Combine flours, baking soda, cream of tartar, and salt.
Mix into peanut butter mixture, alternating with milk. Set aside.
PEPSI REDUCTION In heavy saucepan, on medium heat, reduce Pepsi until about half of original volume and thickened. Set aside.
FILLING 1In small, microwave-safe bowl, warm chocolate and Pepsi reduction in 20-30 second intervals, stirring after each, until melted together.
FILLING 2Combine all ingredients in small, microwave-safe bowl, and warm for about 15 seconds. Stir to combine, and cream.
WHIPPED TOPPING
Beat whipping cream until soft peaks form.
While mixer is running, slowly add sugar and vanilla.
Whip until hard peaks form.
TO BAKE CAKES
Fill each ramekin half full with peanut butter cake mixture.
Put 2 teaspoons of each filling on top of each cake mixture.
Top with more batter until ramekin is almost full.
Bake at 400° for 15-20 minutes. Tops will crack slightly.
Remove from oven, and run a knife around cakes to loosen.
Let cool for 5 minutes. Invert onto serving plates. (If using springform pans, slide onto serving plates.)
Top with dollop of whipped topping and crumbled peanuts. Drizzle with Pepsi reduction. Best if served warm just after baking.
*For applesauce, use 4 cooking apples, 2 tablespoons water or apple juice, and 2 tablespoons sugar or honey. Peel, core, and chop apples. Place in microwave-safe bowl. Sprinkle with water. Cover tightly, and cook on high about 6 minutes or until apples are tender. (Cooking time will vary depending on type of apple used.) Add sugar, and mash with potato masher until desired consistency. (If the apples are naturally sweet, you can omit adding sugar.)
Pepsi and PeanutsThe first thing you'll notice about the old Southern tradition of putting salted peanuts in Pepsi is that it's not all that easy to get those peanuts in.
The opening at the top of a drink bottle isn't made for inserting or dispensing food. It's a drink bottle. So be careful. Be slow.
And by all means, be sure. As individuals, Pepsi and peanuts stand just fine on their own. We North Carolinians gave birth to Pepsi-Cola in New Bern in 1898. After 114 years, it's proved to be a sweet treat by itself. And we've been growing peanuts in northeastern North Carolina since we first learned to farm. At ballparks and picnics and anywhere, they've proved to be salty snacks that don't need any help.
So be sure. To mix them is to make a commitment, a commitment to a compromise between salt and sweet, a commitment to eating your drink.
The next thing you'll notice is the fizz, a reaction between the two opposites. To the eye it looks violent, but to the ear it resembles the familiar sound of waking up to the snowy screen on an old television in the middle of the night.
The next thing you'll notice is that time will pass, waiting for the fizzing to stop. Many North Carolinians will use this time to recall the grandfather who taught them to mix a soft drink and peanuts sitting in front of the old service station. This tradition was born with his generation, and only a few of us carry on with it today.
"It brings back a lot of memories to people who grew up in the South," says Cecilia Budd Grimes, author of the
What It Means to Be Southern
series. Grimes remembers the tradition mostly with Coca-Cola. "It's part of who we are."
One thing that's true, though, is that it's not just Southern. Midwesterners consider Pepsi and peanuts a tradition, too. But in the Southwest, they put popcorn in their Pepsi.
We have other combinations that just work. RC Cola and MoonPies come to mind. Why peanuts don't go into an RC Cola, we don't question that. They just don't. They go in Pepsi.
The reality is Pepsi and peanuts lasted only a few decades as a prominent combination. Even Grimes remembers it mostly from watching her grandfather Budd at the service station in Siler City. We don't see that very often anymore.
North Carolina is changing. People move here from elsewhere now, and we wonder: How will they mix? Will they take to North Carolina's traditions?
Related Articles
Three Sweet Success Stories of North Carolina Bakers
Pie vs. Cake: The Case for Team Cake
Easy as Pie (or a Piece of Cake?)
Which brings us to the last thing you'll notice about the old Southern tradition of putting salted peanuts in Pepsi: After those first few gulps and chews, it's not all that easy to get those peanuts out. And so they float in that sweet pool of North Carolina's soft drink, two opposites waiting together as one fine refreshment.
Other North Carolina Products Used
High Rock Farm Chestnut Flour
high-rock-farm.org
Escazu Chocolate
escazuchocolates.com
Yah's Best Vanilla Extract
yahsbest.com
North Carolina Apples
enjoyncapples.com
Michael Graff is the senior editor of
Our State
magazine. His most recent stories were "Jacksonville's Heroes" and "Pure Pinehurst" (January 2012).
Try the other quintessential North Carolina cakes that appeared originally with this one:
The Krispy Kreme Cake
The Maple Syrup & Country Ham Cake
The Pimento Cheese Cake
The Nabs Cake
This story was published on January 27, 2012
Our State Staff
Since 1933,
Our State
has shared stories about North Carolina with readers both in state and around the world. We celebrate the people and places that make this state great. From the mountains to the coast, we feature North Carolina travel, history, food, and beautiful scenic photography.
Copyright © Our State Magazine 2017, All rights reserved.
Chestnut Revival at High Rock FarmAfter being ravaged by disease, the chestnut's luster has returned at High Rock Farm in Gibsonville.
written by
Bryan Mims
To walk among these trees is to feel a connection, both physical and emotional, to a long-vanquished natural wonder. They stand here, row upon row, inviting not only inspection, but also contemplation. This Piedmont hillside, a few squirrel jumps from the Haw River, is a rare domain for this once-ubiquitous denizen of the deep woods.
The trees are descendants of the American chestnut, a once-soaring hardwood that commanded awe. In most of our lifetimes, chestnuts have been consigned to black-and-white stills or warm-and-fuzzy yuletide carols. Because, in the first half of the 20th century, a fungal disease known as chestnut blight wedged itself into the trunks of American chestnuts, blocking channels for water and nutrients, choking the trees to death. Wind, rain, and birds spread the disease like a cancer across North America, killing billions of chestnut trees.
But here at High Rock Farm, on the outskirts of Gibsonville in Rockingham County, chestnut trees are living, thriving, spreading roots, and bearing fruit.
These vestiges of the great Eastern woodlands claim this ground because of a man who speaks in an accent born of the Southern plains, a man who fancies a fedora, and who has his livelihood and name embroidered over his button-down shirt pocket: "High Rock Farm" and "Richard."
New life for a farm and a house
Richard Teague, a 73-year-old former chemical engineer who grew up in Oklahoma, is standing among the trees now, accompanied by a well-dressed young woman in shiny black shoes — marketing director Brianne McAlister — and two T-shirt-clad young men in scruffy brown shoes, farm managers James Fishel and Jason Durham.
"We're trying to introduce the chestnut as a food item in the American cuisine," Teague says of his 45-acre farm, where 500 chestnut trees occupy 20 acres. He and his late wife, Rolfe, bought High Rock Farm in 1990 through Preservation North Carolina, a nonprofit that seeks out buyers to restore historic sites. Established in 1807, the farm's centerpiece is a three-story brick house with stately white columns and a sumptuous garden of roses, tulips, hollies, magnolias, shrubs, a footpath, and a fountain. "My wife spent 20 years fixing up the house, and that's the important part of why we're here," Teague says.
Since 1990, Richard Teague has been the keeper of the more than 200-year-old High Rock Farm. He bought the property through Preservation North Carolina, which required him to maintain the site as a farm. He's now planted 20 acres of chestnuts and has restored the stately three-story home.
The Preservation North Carolina covenants require that he and his wife maintain the agricultural nature of the site, so Teague planted pecan trees and, in 1994, branched out to chestnuts. But these chestnuts aren't the lofty specimens of yesteryear, with wide-girthed trunks that stood bare of branches for 50 feet or more. Like their forebears, these trees have leaves with a glossy, deep green surface and serrated edges, but they're squatter in stature. They're a variety known as the Dunstan (a cross between the American chestnut and its Chinese counterpart), and, above all, they're resistant to blight. Dunstans grow roughly 50 to 60 feet tall, less imposing than the wild American chestnut, which grew rapidly (typically four feet a year) to heights of well more than 100 feet.
Although the trees are safeguarded against blight, they still have a menace in the chestnut weevil, which requires the routine spraying of insecticide. Deer, who like to nibble at the nuts, are another nuisance. Even so, with the creation of this hybrid, the storied chestnut is making a rousing return at places like High Rock Farm, which boasts the largest still-producing orchard in the mid-Atlantic region, bearing about 26,000 pounds of chestnuts a year. This new breed, Teague says, is more conducive to being raised in an orchard, unlike the original giants, whose nuts were often too high for picking. "The American chestnut tree was primarily a timber tree," he says. "You don't want something 100 feet in the air to get nuts."
A new breed of chestnuts
The nuts are cocooned in husks. From a distance, they're woolly-looking things, pale green and glinting in the midmorning sun, adorning the trees like fur balls. But what appears woolly from afar turns out to be as prickly as a sea urchin. "You're not gonna mess with that on the tree," Teague says.
Related Articles
Snow Day Recipes from the Our State Staff
From Space Flights to Starry Nights at PARI
Barbecue Returns to Basics at Chapel Hill's The Pig
During harvest season, which begins in mid-September and runs for about a month, the trees shed these bristly balls for the farm's hired hands to pluck from the ground. A husk contains up to three nuts, each the color of mahogany and about the size of an egg yolk. Peel off their skin, and you can eat them raw. "It has the crunch of a carrot but the taste of lettuce," says Fishel, the farm manager in charge of processing the nuts. And, yes, as told through songs and sentimental journeys, you can roast it. Around here, chestnuts roasting on an open fire is more than just a lyric. Take a scoring knife, carve an X into the skin to provide an opening, and, well, watch the chestnuts pop. "As it cooks, it expands," Fishel says. "Do it real slow, where it cooks throughout the whole nut, and it's almost like a potato. I put on olive oil and seasoned salt. It's real good."
All of High Rock Farm's chestnut preparation — they must be washed, heated, cooled, graded, and sorted into small, medium, large, and extra-large sizes — takes place in a big white barn, complete with pointed gables and a silo. The farm hosts a chestnut-roasting festival here every November, at the end of harvest season. For the remainder of the year, High Rock Farm chestnuts are sold in 53 stores, "from Duck to Boone," says McAlister. They're also available for purchase online, along with chestnut flour and dried chestnut kernels, which you can use in meats and baked goods.
Before taking the short walk from the orchard to the barn, Teague holds out a chestnut. It shines like varnished wood. He says keeping a chestnut in your pocket the whole winter through is supposed to bring good luck.
But luck seems too flimsy, too temperamental a yield from this steady hand and the undying orchard behind it. Here, you realize: Come bug, beast, or blight, these trees have staying power.
High Rock Farm
960 High Rock Road
Gibsonville, N.C. 27249
(336) 634-0874
high-rock-farm.org
This story was published on December 1, 2014
Bryan Mims
Mims is a reporter for WRAL News. He was the 2012 Television News Reporter of the Year.
---